The world's fastest 4 seat coupe, the
G-Power BMW M6 Hurricane RR
, a car capable of reaching a top speed of nearly 370km/h (229mph). It has twin superchargers called the ASA T1-316 radial supercharger reaching 800hp, a development of the previous SK III RS bi-supercharger system that has 750hp. But the performance of the G-Power BMW M6 Hurricane RR doesn't stop from top speed alone.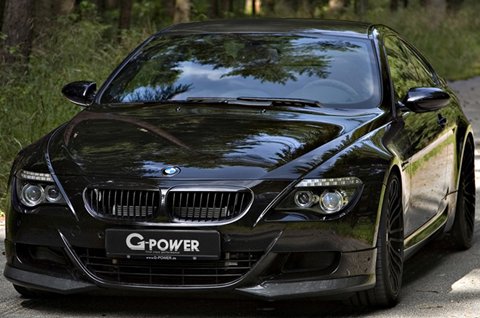 It has incredible acceleration, in less than 4 seconds it can reach a speed of up to 100km/h. Aerodynamics play an important role as well; this car has been equipped with a carbon fiber front skirt and spoiler in the rear to generate greater aerodynamic down force at high speeds. In addition to its high-speed capability is its G-POWER RS coil over sports suspension together with its high-end braking system called the G-POWER high performance braking system.
Because of its incredible top speed and superior acceleration this car is nearly as fast as a hurricane, a very fast car.